BCHS Blog
Read all about BCHS's recent findings below.
Guest Speaker Explains How the Rentschler Family Shaped Hamilton
Join the Butler County Historical Society as guest speaker Charles E. Rentschler of Hartsville , Indiana , presents the history of the companies formed by industrialist George Adam Rentschler, his sons and grand children. His talk, "How the Rentschler Family Shaped Hamilton," will be at 1 p.m. on January 18 in the Emma Ritchie Auditorium at the Butler County Historical Society, 327 North 2nd Street , Hamilton . The program is free to the public.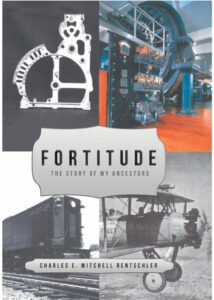 Rentschler who served as president and CEO of Hamilton Foundry and Machine Company from 1985 to 2001 will tell the story of his grandfather and patriarch of the family, industrialist George Adam Rentschler. Rentschler was one of the founders of Hooven, Owens, Rentschler (HOR) in 1880 and Hamilton Foundry and Machine Company in 1892. HOR merged with Niles Tool Works in 1928 to form General Machinery Corporation which, after two other mergers, became Lima-Baldwin-Hamilton Corporation in 1950. Hamilton Foundry and Machine Company survived as Hamilton Allied Corporation until the local foundry closed in 1984.
George Rentschler's three sons also made substantial contributions to the development of the city. George A Rentschler, the speaker's father, served as president of General Machinery Corporation and merged it with Baldwin-Lima-Hamilton in 1950. Gordon Sohn Rentschler worked to create the Miami Conservancy District after the 1913 flood and went on to build New York 's National City Bank into the enormous CitiBank. Frederick Brandt Rentschler formed Wright Aeronautical Corporation, Pratt and Whitney Aircraft Company and, with partners Chance Vaught and William Boeing, United Airlines.
Speaker Rentschler has worked as a machinery analyst, management consultant, production manager, and served as president and CEO of Hamilton Foundry and Machine Company from 1985 until the firm ceased operations in 1997. After retiring in 2009, Charles researched and wrote The Cathedral Builder: A Biography of J. Irwin Miller, the long-time CEO of the Cummins Engine Company. In 2018, Rentschler published Fortitude: The Story of My Ancestors in which he describes the contributions and history of the Rentschler family. Copies of Rentschler's book will be available purchase and author signing after the program.
BCHS Names New Officers and Board Members for 2020
The Butler County Historical Society will begin 2020 with a new slate of officers when the Board of Trustees meets on Thursday, January 16. Brian Smith will return for a third year as the board's president. He is a Ross School District English teacher and is entering his sixth year as a board member. Sara Butler, Miami University Art Department Professor Emeritus, will be the new vice-president. Butler rejoined the BCHS board in 2019 and previously served as a trustee from 2011 to 2017.
Greg Young, retired superintendent of the Ross School District, will serve as board treasurer for a second year. Young served as board president for three years when he was on the board from 2007 through 2012. Patty Fawns will be the board's secretary for a second consecutive year. She previously served as a board trustee for six years.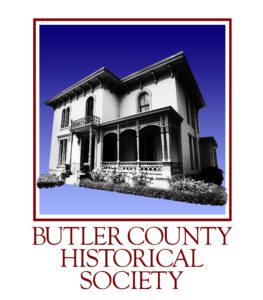 Returning board members are Liesl Bauer, B. Gayle Niehaus, Joanne Williamson and Katie Wright. Kathy Creighton remains the society's Executive Director, a position she has occupied since 2010. Christina Beckett, administrative assistant, and Butch Frederick, curator of the Soldiers, Sailors and Pioneers Monument, will continue in those positions.
New members of the board of trustees will be Hamilton residents Linda Benninghofen and Josh Braun, Doug Fraits of Millville and Hanover Township resident Ted Hunter. All four new members of the board are beginning their first year as trustees. Leaving the board after serving as trustees for six years are Jack Armstrong, Chris Carroll and Richard Piland.
The society's Board of Trustees oversees the BCHS programs, exhibits, operations, and efforts to preserve and interpret Butler County's rich heritage. During 2019, more than 10,000 people visited the society to conduct research, tour the Benninghofen House museum, attend a lecture series program, visit an exhibit, or attended a Speaker's Bureau presentation. As a non-profit organization with no routine government support of any kind, the BCHS relies on generous volunteer and community support and financial gifts to help it continue the society's increasingly important civic contributions to increase public awareness of the county's past.
Member-Only Christmas Celebration
Butler County Historical Society members are invited to attend a traditional holiday Christmas celebration to be held on Friday evening, December 6, from 6 p.m. to 9 p.m. The event will be held throughout the society's complex at 327 N. Second Street, Hamilton and include a variety of typical holiday refreshments, cookies, and beverages. Non-members who wish to attend the event can join the society during the evening. People planning to attend are requested to RSVP.
The Benninghofen House will be decked out in traditional Victorian holiday attire and several Christmas trees decorated by the society's Master Gardeners will be located in the house and the Emma Ritchie Auditorium. Homemade Christmas cookies, mulled wine and apple cider will be available during the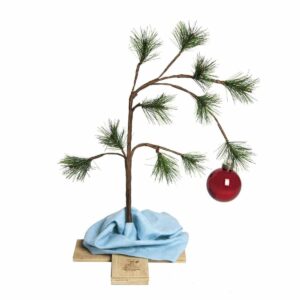 evening beginning at 6 p.m. Kathy Creighton, BCHS Executive Director, will present an entertaining biography of Santa Claus and tell the history of the holiday classic cartoon "A Charlie Brown Christmas" at 7 p.m.
Members will also have the opportunity to enjoy an ongoing mini-display of antique toys and Christmas Cards in the Emma Ritchie Auditorium. Also on view is an alpine winter scene including several ski slopes, 10 porcelain lighted buildings, more than 100 trees and nearly 100 skiers, skaters and snowboarders, all in small scale. The entire village is part of a collection of porcelain buildings owned by BCHS board member Richard Piland.
John Kiesewetter to be Featured Speaker During the BCHS Annual Meeting
TV and media reporter John Kiesewetter will be the featured speaker during the 85th Annual Meeting of the Butler County Historical Society. The meeting will be held in the Fitton Center for Creative Arts Carruthers Signature Ballroom, 101 S. Monument Avenue, Hamilton on Thursday, November 7. A cash bar will be available beginning at 5:30 p.m. followed by dinner at 6:15 p.m. A brief business meeting after the dinner will feature a report of the society's activities during 2019 and the election of the society's new board members and slate of officers for 2020.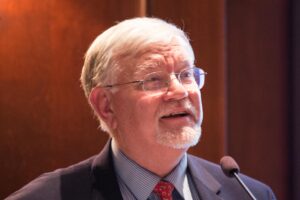 John Kiesewetter was a Cincinnati Enquirer reporter for 40 years and the newspaper's TV columnist for 30 years before taking his current position in 2015 with Cincinnati Public Radio station WVXU-FM. He is a Butler County native, born in Middletown and a 1971 Fenwick High School graduate. John lives in Fairfield with his wife, former Journal-News reporter Sue Kiesewetter.
Kiesewetter will speak on "Remembering Cincinnati's Biggest TV Stars." He will tell his favorite stories about Cincinnati TV stars including Bonnie Lou, Bob Braun, Nick Clooney, Paul Dixon and Al Schottelkotte. He will also tell tales about George Clooney, Woody Harrelson and others he covered in the Los Angeles and New York TV markets. Kiesewetter's talk will be a fun-filled and nostalgic remembrance of the people that helped create the golden age of Cincinnati television.
The dinner and meeting are open to all historical society members and the public. Tickets are $45 for individuals and $85 for couples. People interested in attending should make reservations for the event no later than October 31st by calling the society at 896-9930.
BCHS Exhibit Presents Victorian Funeral Traditions
The Butler County Historical Society will open a new exhibit presenting many of the traditions of Victorian era funerals next week. The exhibit is free to the public and will open in the society's Benninghofen House, 327 North 3rd Street, Hamilton, on Tuesday, October 1 and run for six weeks until November 9.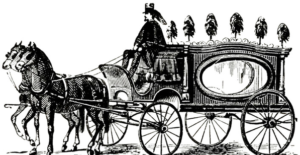 An authentic Victorian "laying out table" holding a coffin provided by the Charles C. Young Funeral Home is the central feature of the exhibit on display in the museum's parlor. Several traditional floral arrangements, a wide collection of period funeral invitations and memorial cards can also be examined. Women's mourning clothes worn during the Civil War and early 20th century, a funeral urn and a home embalming kit are also on display. The exhibit tells the story of "The Empty Chair" and explains the original meaning of the phrase "saved by the bell."
BCHS Holds Old Fashioned Ice Cream Socials, Presents Butler County, 1919 and Games Played in the 1800s
The Butler County Historical Society will host a special member-only event on Friday evening, September 13, from 6 p.m. to 8 p.m. in the Emma Ritchie Auditorium of the society's complex at 327 N. Second Street, Hamilton. The evening begins with an old-fashioned ice cream social at 6 p.m. followed by a presentation about daily life in Butler County 100 years ago. Non-members who wish to attend the event can join the society during the evening.
Sara Butler, Miami University Art Department Professor Emeritus and BCHS Board Member, will present "Butler County, 1919." Her talk will present local reactions to the tumultuous events surrounding the end of World War I, prohibition, women's suffrage, the Spanish Flu, and the World Series scandal. Scenes from the county, stories from local newspapers and artifacts from the historical society's collection will highlight the presentation.
On Saturday, September 14, the society's final summer multi-generational program for children and their parents will be presented. The program, including an ice cream social, will be held in the front yard of the society's Benninghofen House at 327 North Second Street and begin at 9:30 a.m. and end around 2 p.m. The program will focus on common games children played during the 1800s including shuttle     cock, graces, and Jacob's ladder. Youngsters can make a ring and stick game they can take home. All activities are designed as hands-on experiences and people can join the event anytime between 9:30 a.m. and 2 p.m. In the case of poor weather, activities will be moved inside to the Emma Ritchie Auditorium. This program is free and open to the public, thanks to a generous grant from the W. E. Smith Family Trust of Oxford.
For both ice cream socials we plan to make chocolate and vanilla ice cream, some by hand cranking small makers and some through the power of an antique "hit and miss" engine attached to a five gallon ice cream maker. Kathy Creighton, executive director of the historical society, said "this is our fourth annual ice cream social. During earlier socials we made more than six gallons of chocolate and vanilla ice cream and the youngsters really enjoyed watching the old engine churn away. We also will have all the toppings, sprinkles and cherries for everyone to make their ice cream a special treat."