On Saturday, June 8, the Butler County Historical Society will commemorate the 75th anniversary of the June 6, 1944 Allied D-Day invasion of Normandy with the first of four summer multi-generational programs designed for children and their parents or grandparents.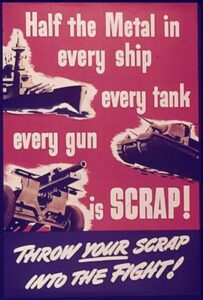 It will be held in the front yard of the society's Benninghofen House museum at 327 North Second Street, Hamilton, and begin at 9:30 a.m. and end around 2:00 p.m.  The program is free and open to the public, thanks to a generous grant from the W. E. Smith Family Trust of Oxford.
Children and their companions will be able to visit the BCHS exhibit focusing on Butler County residents and companies that participated in America's war effort. There will be a scavenger hunt, explanations of rationing and an opportunity to "collect" eggs. A World War II Jeep will be on display in the parking lot and give children opportunities to have photos taken with it.
All activities are designed as hands-on experiences with no set program. People can join the event anytime between 9:30 a.m. and 2 p.m. and come and go as they please. In the case of poor weather, activities will be moved inside to the Emma Ritchie Auditorium.