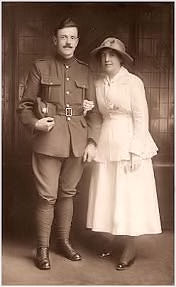 Sara Butler, Miami University Art Department Professor Emeritus, will present "Clothing During the Great War: 1914-1918", 1 p.m. March 24, 2018  in the Emma Ritchie Auditorium at the Butler County Historical Society, 327 North 2nd Street, Hamilton. Her talk will describe the uniforms and clothing worn by men serving in the U.S. military as well as people on the home front during World War I. The program is free to the public.
Butler, a former board member of the historical society, will explain the unique characteristics of the uniforms of American soldiers and how the county's residents worked to supply equipment and garments for the military effort. She will report how local retail stores worked to support the war effort and present the contributions of women during the wartime years. Several aspects of how the war influenced the fashions of the day will be illustrated with advertisements from local newspapers and by actual uniforms and women's clothing in the historical society's collection.
Dr. Butler was one of the coordinators of the society's ongoing exhibit, "Over There, Over Here: Butler County Stories of World War I," that focuses on the story of World War I in Butler County. The exhibit can be visited before or after her presentation.